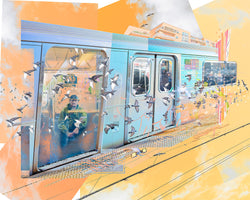 vein
 Candid portraits of people riding the west-bound #7 train, still-life photography fragments, and portraits of pigeons and seagulls taken at the Junction Blvd train Station in Jackson Heights, New York City. I have heard stories of the arduous and dangerous odysseys people embark on to reach this country. A woman told me she rode for nine hours in a hidden compartment under a bus and next to the wheel. I have seen abandoned camps in the Arizona desert with discarded items like soiled diapers of babies walking across Sasabe Valley in Arizona, a place where 150+ people die every Summer journeying in 115 Fahrenheit temperatures. The stories of immigrants are the stories of dreams built in the sky. Many of these dreams die. And just a few fly through like birds in flight. Please see the veins on his hands.
Print Info
Series Title: Vessels
Medium: Photography
Media: Archival Pigment Print
Image Size: 72" x 57.6" inches (182.8 x 146.3 cm)
Edition of 3 + 1AP
(AP not for sale)

Print is titled, dated, numbered, and signed on verso.
Certificate of authenticity will be provided.


For inquiries, to CHAT ABOUT THE WORK, to schedule a STUDIO VISIT or a portfolio review, or to just say hello, please contact me at:

Email: marco@ma9.co
Tel: 347.772.9370 in New York City