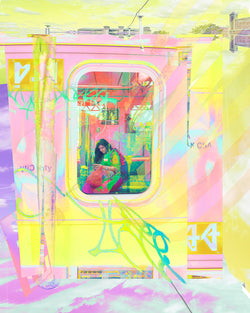 Reading Woman
Candid portrait of a woman looking at her cellphone while riding the west-bound #7 train and still-life photography fragments taken at the Junction Blvd train Station in Jackson Heights, New York City.


Print Info
Series Title: Vessels
Medium: Photography
Media: Archival Pigment Print
Image Size: 72" x 57.6" inches (182.8 x 146.3 cm)
Edition of 3 + 1AP
(AP not for sale)

Print is titled, dated, numbered, and signed on verso.
Certificate of authenticity will be provided.


For inquiries, to CHAT ABOUT THE WORK, to schedule a STUDIO VISIT or a portfolio review, or to just say hello, please contact me at:

Email: marco@ma9.co
Tel: 347.772.9370 in New York City