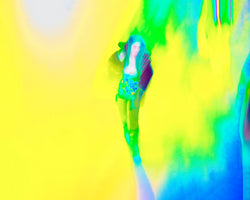 Madonna and Child
Candid portrait of a woman and her baby at Grand Central Station in New York City in 2019. I am the son of a single mother and not a day goes by in my life that I do not find myself looking over when I see a mother and child near me. But now that I am a father, I am dumbfounded by the sheer power and breadth of the life force behind the image of a child clinging to your chest. As a man, and as a father, I will never be able to viscerally fathom what it means in the flesh and in the spirit to carry a human being inside my body, then help him go out a birth canal and into light. I have no clue what it means to feed another life from my own breast and body. I do know what it means to feel a love I have never experienced or even imagined for this little human being. That feeling and the memory of the woman who gave me life walking this earth with me on her hand is what keeps drawing me to Madonna and Child scenes like these.

PRINT INFO
Title: Title: Madonna and Child
Series: Passenger
Year created: 2019
Print Size: 40 x 32 in - 101.6 x 81.2 cm
Medium: Photography
Media: Archival Pigment Print
Edition of 3 + 1 AP
(AP not for sale)

Prints are titled, dated, numbered, and signed on verso.
Certificate of authenticity will be provided.
For inquiries, please contact me at:

Email: marco@ma9.co
Tel: 347.772.9370 in New York City