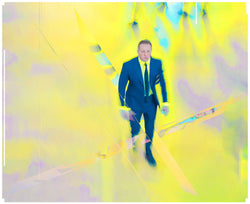 Walking Man
Candid portrait of a man at the beginning of the 21st Century walking across the Great Hall of Grand Central Station in New York City. The photograph has been aleatorily disassembled and re-colored in post-production.
A reference to Giacometti's "Walking Man" and to Diego Rivera's "Man at the Cross Roads."
If the men Giacometti and Rivera "represented" in their age stand, this is a primary source photographic document of a man in my age.
Look at him closely. His bearing, his clothing, the tie simply and elegantly knotted, the strength of his movement cuts a certain imprint for our age. It reminds me of Hemingway's To Have and Have Not.
Who is man today?
Who is man ten thousand years from now, dear viewer, when you are looking at my photography portrait of you ten thousand years later?
Print Size
Image Size: 60" x 48" (152.4 x 121.9 cm)
Sheet Size: 63" x 51" (160 x 129.5 cm)
Medium: Photography
Media: Archival Pigment Print
Edition of 3 + 1 AP
(AP not for sale)
1/1 NFT @ Foundation


Print is titled, dated, numbered, and signed on verso.
Certificate of authenticity will be provided.



For inquiries, to CHAT ABOUT THE WORK, to schedule a STUDIO VISIT or a portfolio review, or to just say hello, please contact me at:

Email: marco@ma9.co
Tel: 347.772.9370 in New York City