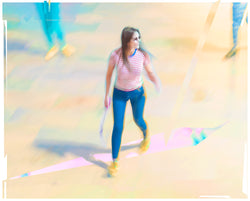 How Many Roads
Disassembling an individual and place at Grand Central Station in New York City.
Print Size
Image Size: 60" x 48" (152.4 x 121.9 cm)
Sheet Size: 63" x 51" (160 x 129.5 cm)
Medium: Photography
Media: Archival Pigment Print
Edition of 3 + 1 AP
(AP not for sale)
1/1 NFT @ Foundation


Print is titled, dated, numbered, and signed on verso.
Certificate of authenticity will be provided.



For inquiries, to CHAT ABOUT THE WORK, to schedule a STUDIO VISIT or a portfolio review, or to just say hello, please contact me at:

Email: marco@ma9.co
Tel: 347.772.9370 in New York City