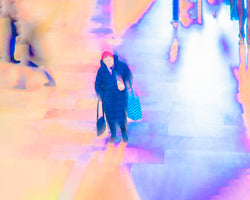 About This Morning
A woman walks the great hall at Grand Central Station in New York City, 2019. There is a certain walk that older lonely people use in this urban landscape of New York. A certain gait. A certain leaning down of the head. A certain way of carrying a couple of bags with an emptiness in the air. More often than not this city is such a vertiginous vortex that it renders a lonely person impeccably invisible. And I think I was drawn to photograph this woman so I can remind myself that she is not invisible. That loneliness is not invisible. That the onus is on the one who fails to see. I come from a place where elders are the center of the world. In my clan, we went to see the elders almost regularly when you were a teenager, and they fed you sweet afternoon snacks or small evening meals made with warmth and a wink instead of any sign of any wealth. This is not such a place. So here she is. Visible to me. Today. Of course, I might be projecting Eleanor Rigby all over the place here. But let me not digress and move on. Though I want to say that I was not aware I was trying to giver her as much beauty and warmth as I could. Now that I look at the photograph just now there is something ether-like in it.  

PRINT INFO
Title: About This Morning
Series: Passenger
Year created: 2019
Print Size: 40 x 32 in - 101.6 x 81.2 cm
Medium: Photography
Media: Archival Pigment Print
Edition of 3 + 1 AP
(AP not for sale)

Prints are titled, dated, numbered, and signed on verso.
Certificate of authenticity will be provided.
For inquiries, please contact me at:

Email: marco@ma9.co
Tel: 347.772.9370 in New York City