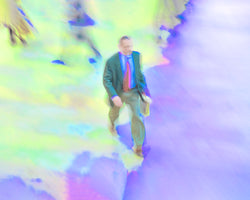 Crossroad
A man walks in Grand Central Station, New York City, 2019.

I discovered Giacometti's Walking Man during a college class on European history. Then I saw the sculpture during a retrospective at MoMA in NYC many years ago. Arriving an hour before the last day the exhibition was closing, I went just to see  Walking Man, which was in the middle of the gallery. I went at it the way Jerry Saltz, the NY Mag art critic describes how artists see artwork. Walking around it at a glacial pace and both pulling away to see the impressionism in it and getting so close to examine the sculptural rectangular brushstroke of Giacometti's finger, the lone guard began to get closer and closer to me out of an abundance of caution. Until I was awakened out of my epiphany by old-school good manners and I turned and smiled at him and placed him at ease. In that ashen bronze, I could see a man walking through and out of that valley of carpet-bombing at places like Dresden during WWII, walking out of Holocaust chambers, out of the fog of war.
And I am deeply and obsessively drawn to the woman and man today as they walk the street because with my camera and lens this man in this photograph is an actual man with a name and a specific life and not a representational figure.
Looking at this photograph more closely now it dawns on me that part of that painterly quality I sought with this technique was to make the face the face of an unknown person. And there is the stride of the walking man. I once photographed models prancing fashion runway shows and I remember practicing anticipating the fragment of a second it took for the foot to lean into the full step just so I could capture the sense of the movement that was to come right after. Why you will find a lot of movement in the bodies I photograph. A thousand years from now a viewer may know what it meant to be this man in this red tie with this small brown bag in his left hand walking from this epoch across that line of time and out of my photograph and into their world which our generation can not even imagine yet. If this was man, where is him today? A thousand years ago this man walked this earth in heavy armor and into a battlefield against a thousand un-armored men. Where will this man be a thousand years from now? What will he wear? What will he do? What would he think of himself? Will he still be here? 

PRINT INFO
Title: Crossroad
Series: Passenger
Year created: 2019
Print Size: 72 x 57.6 in - 182.8 x 146.3 cm
Medium: Photography
Media: Archival Pigment Print
Edition of 3 + 1 AP
(AP not for sale)

Prints are titled, dated, numbered, and signed on verso.
Certificate of authenticity will be provided.

For inquiries, please contact me at:

Email: marco@ma9.co
Tel: 347.772.9370 in New York City