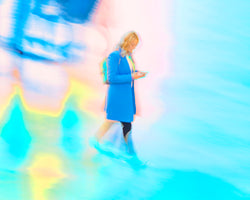 Borealis
I have mixed feelings about this portrait of a woman looking at her cell phone while walking in the grand hall of Grand Central Station, New York City, 2019.
The more I photograph individuals in the street the more and more I find them tethered to their cell phones and I am reminded of Odysseus' men trapped in the island of the lotus eaters. I too am trapped often in my cell phone, though the constant self-awareness of this exercise is more and more allowing me to question it and to "remember" what I am and who I am when I am not tethered to the cell phone. Documenting this woman walking while cell-phoning snaps me out of it a la Cher slapping Nicolas Cage in Moonstruck.

Yet I can not help but interpret the emotion she is expressing as she looks at her phone, not so much that she is reacting to the information she is in-taking but rather it is the face of someone absolutely inside an experience that is designed to control and direct her every aspect of life, emotion, hope, desire, dreams; every single thought and feeling is colored by the commodity-sale flashed from that single silicon chip by power institutions that remain unseen. And I mean, unseen. Her body language -- and I know I might be projecting subjective experiences, I get that, but take a leap of faith and just allow the interpretation to hold a moment, because the image, although it is a historical, non-representational, primary-source document, has the capacity to become a metaphor, to convey the universal as it is the same expression my camera finds in countless others -- the aspect of her expression, her lowered head, her bend neck, her pace, her uniformed clothing, speaks of unconscious acquiescence to the powers behind that phone.

On the other hand, this candid portrait reminds me of the lyrical idealization of classical Greek sculpture of women. And I wonder how my male gaze is here working through without me being conscious of it. Why did I select this color palette in post-production? Did I unconsciously shape the act of taking the photograph so that the ether-like elements surrounding her appear in such a lyrical way? Why did I photograph her in profile? How important was it to photograph her back pack and why did I photograph it? Is my male gaze present? Or was I projecting someone else in my life, perhaps? The act of photographing a person in the street without their knowledge can be categorized as invasive and violent. Was I compensating for my lack of permission? Or was I truly documenting what a woman like her looks like at the beginning of the 21st Century so a thousand years from now someone like her may know what she looked like a millennia ago?  
On a third hand, the woman I document here reminds of the Venus of Villendorf because this is what she has become twenty-five thousand years later. And here she is, documented, -- not a representation hammered out of stone -- despite any and all of my subjective biases and shortcomings. 
PRINT INFO
Title: Borealis
Series: Passenger
Year created: 2019
Print Size: 72 x 57.6 in - 182.8 x 146.3 cm
Medium: Photography
Media: Archival Pigment Print
Edition of 3 + 1 AP
(AP not for sale)
Prints are titled, dated, numbered, and signed on verso.
Certificate of authenticity will be provided.
For inquiries, please contact me at:
Email: marco@ma9.co
Tel: 347.772.9370 in New York City