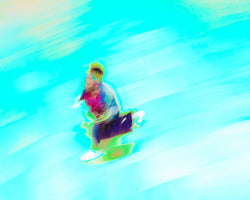 Beyond the Curtain
A woman of non-European descenT runs across Grand Central Station, New York City, 2019.

It is easy to denote the stereotypes in describing this woman. It is easy to yet again use the word "race" with all its hidden damage non-existent in the mere mentioning of it. As I mentioned in the earlier work, Mirror, I detest any concept or definition that includes the word race, a 19th Century word that denotes something "biological" that does not exist. How we still use such a damaging word is beyond me.  We need to come up with another word that utterly destroys the fallacy of "race" while comprehensively allowing for a conversation about systemic and institutionalized prejudice shaped by misinformation about skin color, and how that "misinformation" continues to subjugate, dis-empower and destroy social agency for non-European descendants.
Her running, perhaps to catch a train, invokes all kinds of subjective, damaging idiosyncrasies in any of us, ideas that are only inside our brain, all of us whose mind is shaped by stereotypes -- NOT on her. If she were of European descent, any of us would not be invoking any of those damaging stereotypes. There is a solid reality in this last statement expressed ad infinitum by those who are not of European descent, a statement by an entire class of people our society has turned into white noise. And their voice, when they express such a simple thought is made mute by the sheer power of a class that has not even the slightest inkling of what it viscerally means to be seen as being in the wrong place. 
I like her strength. That alone gives me promise that my head may someday not have any reference to damaging stereotypes. After all, it is neuroplasticity, my own, and yours, dear viewer, that can supplant a damaging stereotype with an image associated with a positive text.

I repeat the following paragraph from the other photographs of non-European descendants coursing through Grand Central Station. Just because.

But anyhow. I must have photographed hundreds of individuals during the making of this series. I can count with both hands the number of non-European-descendants who came across my lens. Mind you, please note, I used variations of two distinctive methods for maximizing randomness of "who" was being selected for photographing. One was used by the dance choreographer Merce Cunningham, while the other I borrowed from a digging technique we used in an urban archeology class I took at City College of CUNY. So, this photograph and this woman directly address my interest in documenting who has access to a specific location like Grand Central Station. What stands out for me is the fact that the large majority of people who came across my lens were of European descend, and that it is very difficult not to surmise that a place like Grand Central Station is psychologically and physically segregated. This society need not have laws in place to make such segregation real for a non-European-descendant person, because Grand Central Station is a place that has unwritten, silent directives that shape "access" to non-European descendants. Socioeconomic power is one of those directives.
PRINT INFO
Title: Beyond the Curtain
Series: Passenger
Year created: 2019
Print Size: 72 x 57.6 in - 182.8 x 146.3 cm
Medium: Photography
Media: Archival Pigment Print
Edition of 3 + 1 AP
(AP not for sale)

Prints are titled, dated, numbered, and signed on verso.
Certificate of authenticity will be provided.
For inquiries, please contact me at:

Email: marco@ma9.co
Tel: 347.772.9370 in New York City