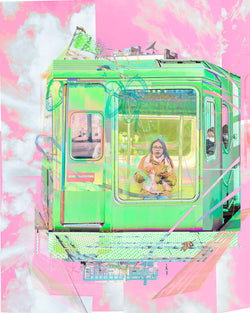 1984
Candid portraits of people riding the west-bound #7 train and still-life photography fragments taken at the Junction Blvd train Station in Jackson Heights, New York City. The central woman is any woman of immigrant descent thriving in this country. The disproportion of her large body compared to the train is a reference to Fernando Botero's sculpture and the virgin Mary in Michelangelo's La Pieta. Here, though, is a young woman self-empowered and self-possessed forging agency for herself in a new world. 1984 is my personal reference to my experience as an immigrant in the early 1980's and a direct reference to Orwell's "Nineteen Eighty-Four."
Print Info
Series Title: Vessels
Medium: Photography
Media: Archival Pigment Print
Image Size: 72" x 57.6" inches (182.8 x 146.3 cm)
Edition of 3 + 1AP
(AP not for sale)

Print is titled, dated, numbered, and signed on verso.
Certificate of authenticity will be provided.


For inquiries, to CHAT ABOUT THE WORK, to schedule a STUDIO VISIT or a portfolio review, or to just say hello, please contact me at:

Email: marco@ma9.co
Tel: 347.772.9370 in New York City