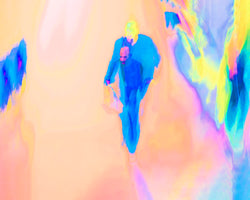 doppelgänger
Candid portrait of a man walking in Grand Central Station in New York City in 2019. A few years ago I lived in a small city in South-America where a few times people walked up to me and called me by another name only to realize that I was someone else. And I never ran into my doppelganger there. I believe we live in a epoch where we are reinventing our selves many times over a single life. I have met people who have expressed completely different sides of themselves. People who keep completely different sets of friends and keep them separate. How many sides do each one of us have? And who do we show each side to? Or has it always been standard to evolve many times into a completely different person and only now are we becoming aware?

PRINT INFO
Title: Doppelgänger
Series: Passenger
Year created: 2019
Print Size: 40 x 32 in - 101.6 x 81.2 cm
Medium: Photography
Media: Archival Pigment Print
Edition of 3 + 1 AP
(AP not for sale)

Prints are titled, dated, numbered, and signed on verso.
Certificate of authenticity will be provided.
For inquiries, please contact me at:

Email: marco@ma9.co
Tel: 347.772.9370 in New York City